Reardon Insurance


508-533-8914
Medway's #1 Agent 6 times since 1998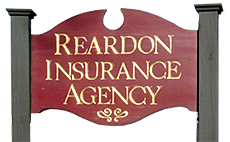 Rated the NUMBER ONE insurance agent, by the Readers Choice Awards in Medway and Millis, Massachusetts  3 years in a row.  We are licensed in Massachusetts, New Hampshire, Maine, and Rhode Island. All of the companies we represent are selected based on their claims service first. The reason you buy insurance is for any potential claims that may occur and all our companies have fast, efficient claims departments. After we hand selected the best companies to represent based on their claims service,  then we considered pricing, accessibility and innovation. Reardon Insurance Agency  has been serving the needs of our valued clients since 1920.
We take the time . . .
We will take the time to explain your policy to you in easy and understandable terms, just as we have done ever since the first Reardon sold an insurance policy in 1866.
Up to a 22% auto insurance discount if you pay in full, insure 2 or more cars and your home with us and we write your auto policy at least 7 days in advance
Up to a 20% Home insurance discount if we insure your auto
Good Student discounts (3.0 GPA or higher)
Up to a 5% discount for AAA, AARP, On-Star and Sams Club
Auto replacement cost coverage at no extra charge (in some cases)
Disappearing Auto insurance deductibles